For nearly 10 years we have been compiling Force Measurement Data on single and double scullers of various skill levels including some of the top elite scullers in the country and the world to understand how best to improve synergy of power application and in the last few years have been doing the same in our indoor rowing tank with great success.
A Force Measurement System can speed up the mastering of efficient rowing technique and synergism. This Force system consists of a portable electronic data logger with force transducers attached to the oarlock pins and the keel of the boat. The data logger is downloaded after each on the water session using software that converts the data into force, speed and acceleration curves for each rower, plus oarlock angle, power, stroke, and stopwatch data. The curves and bar graphs are reviewed by the athletes and coach immediately after the outing along with synchronized video data that has been taken from a coach boat.
We have been using the force measurement system in the tank for several years now. We have been using it with both our Club Members, people taking lessons and with groups renting the facility on weekends. We have used the FM System with everyone from beginners to elite level athletes. The data allows coaches and athletes to view the force curve, stroke length, slip on each end of the stroke, watts of power produced per side (sculling) or per station (sweep), strokes per minute, handle speed and more.
Because the data in the tank can be viewed in "real-time" changes can be made quickly to improve. The tank data can be used to blend technique, select athletes that row a similar style so as to predict success of a particular line-up and help the athlete reinforce good technique and root out bad technique. It goes way beyond even what the best rowing simulators offer as it also focuses on those issues that occur from less then optimum blade work,handle height throughout the stroke, positioning at the hands at the cross points (i.e., sculling) and on optimization of handle speed. The indoor rowing tank equipped with Force Measurement instrumentation with real-time Feedback is like having another coach. It is an extremely poweful tool!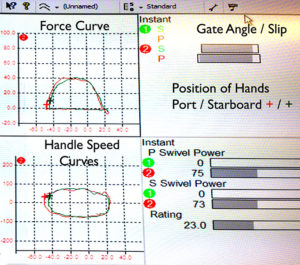 Force Measurement in Action In An Indoor Rowing Tank (See above video).
Using the generated data, with the assistance of basic physics and biomechanics principles the force, velocity, acceleration and gate angle curves are compared to published curves from the best medal wining boats. Basic physics confirm why these shapes are good models for an efficient stroke that a coach and athlete can understand.
For more information on this topic, please see the following papers: