A History of Design
Durham Boat Company started manufacturing Sculling oars in 1988 and by 1989 the first sets were used at the World Rowing Championship. Dreher invented the adjustable handle feature in 1991 and now have the Tool-Free Adjustable Feature available on all adjustable Sculls and now on our newest Sweep Oar, the Dreher Slim Ellipse.
Throughout our history, we have consistently pursued improvements in our equipment that may provide athletes with the ever sought after "competitive edge." This continued research and development has led us to develop new sculling and sweep designs as well as explore improvements in materials and methodology.
Since 2001 we have been offering oars made with high modulus carbon and twill fabric surface. The high modulus carbon in the shaft allows us to create lighter oars at the same stiffness without sacrificing durability and longevity.
A little known fact is that Dreher Oars have always used some high modulus carbon in their sweep oars. Both the anisotropic layup schedule, the types of unidirectional and woven carbon pre-pregs used, and seamless blade and shaft interface have all resulted in the Dreher Oars high efficiency.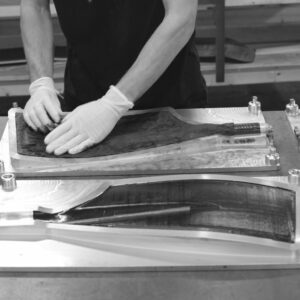 Our Processes and Materials
Unique to Dreher oars and sculls is the molding phase where all shafts are autoclave cured at high temperature and pressure for maximum strength, durability and longevity. The completely modular system allows for custom tuning of length, handle size, blade type, and blade pitch; providing you and your crews with versatility while maintaining cost efficiency and high-performance standards. Only the best carbon prepreg from the largest supplier of carbon prepreg in the world is used to make Dreher Oars and Sculls. All the major components are made from prepreg carbon, and the blades consist of a specially formulated proprietary core that is in-situ molded of syntactic prepreg carbon to obtain the highest quality with the desired strength, weight, weight distribution, durability and surface finish.
All materials of construction are of the highest quality and all are modular: If a Dreher shaft is broken through collision or accident it can be easily replaced. The blade can readily be removed as well as the handle. If blades are broken or as new blade shapes evolve, you might want to change your blades. With the Dreher modular system, this can be done without the expense of purchasing a new set of oars. The major advantage of the modular design is the easy replacement of parts and protection against product obsolescence due to blade shape optimization.
Additional Oar Information