BBG Racing Single
1. One BBG Olympia X 2003 Single (60 kg. capacity). This boat has a Dreher top mounted carbon Tubular riggers, carbon single action seat, carbon foot stretchers and carbon fin. The single is in great condition with the hull recently (2013) clear coated by the owner. The price is $6,050.00 for the boat and cover or $6,600.00 for the boat, cover and sculls. SOLD

Recreational Singles
2. We have several Rec-Racers singles (Up to 185 lb. capacity) They range in age 1 to several years old. They are all carbon construction with a synthetic core. They all are equipped Dreher carbon rigging components: Carbon Wing riggers, carbon single action seats and carbon foot stretchers. The price ranges from $3,800 to $5,500 depending on the age and the condition.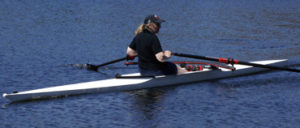 Other Quads or 4x/4-:
3. One 90kg. Quad (K490) 1999.Has carbon riggers, carbon single action seats, and carbon foot stretchers. Hull construction – Carbon, Kevlar, glass and Nomex core, very good condition. Color – Red with black trim. This boat along with are other quads listed above have not be used much, but it has one scratch on the hull. The boat has brand new seats as of 2014. The 4x has raced at the HOCR or trials from time to time. The price is: $9,950.

________________________________________________
Boats Offer for Sale by Others:

Call (603-659-7575) or email (sales@durhamboat.com) to post your boat and related accessories and supply the following information:
Name and contact information;
Description of Items to be offered for sale, with age, condition, recent picture;
Indicate if you were the first owner and or any history on the boat that you have;
Include pictures;
Indicate if there has been any damage or refurbishment/ upgrades;
Indicate present weight;
Your asking price.