Durham, NH is only 65 miles north of Boston, located in the Seacoast Region of New Hampshire. Durham is the home of the University of New Hampshire and has two rivers in town: The Oyster River, which is tidal estuary that empties into Little Bay and Great Bay.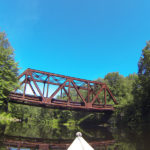 The Lamprey River is the home of the DBC Sculling Sculling is on the lowest fresh water reach of the river and in largest watershed that empties into Great Bay. See the 1000 m course. If all major branches are used the workout is about 10K.
Portsmouth, a seaport that dates to 1620, offers many historic homes including Strawbery Banke Museum. The port also has a charming downtown filled with shops and a waterfront crowded with restaurants. Boating excursions leave from Portsmouth to the Isles of Shoals (a group of islands 7 miles off the coast) and for whale watches daily.
Portsmouth and the beaches of New Hampshire are only 20 minutes from Durham and offer standard accommodations
Accommodations in Durham include the following three locations: For for an the elegant choice where old world luxury and new age convenience are merged, try the Three Chimneys Inn (1-888-399-9777 or 603-868-7800). The Inn also has both a formal and informal dining at the historic ffrost Sawyer Tavern. The range of room rates, depending on time of year and room classification. This Inn is located about 2 miles north our the Sculling School on the right hand side of the road (Rt. 108 / Newmarket Rd.) when traveling north.
Another option in Durham close to the Rt. 4, but still on Rt. 108 (Dover Rd.) is the Pines Guest House (603-868-3361), which offers high speed internet with modestly priced room rates.
Just 2.25 miles north of our the Sculling School on Main St. in Durham is The Holiday Inn Express – Durham. (603 – 868-1234) At The Holiday Inn Express, there are 68 guest rooms including 2 luxury suites. Included in each room is a flat screen televisions, internet access both wired and wireless, a Express Start Breakfast. The hotel also offers a guest computer station, guest laundry and two meeting rooms. For more information call on 603-868-1234.
Please see the following link for: Dover Options. For other hotel options along with dining, shopping, and historic sites on the Seacoast of NH, try downtown Portsmouth.
More information on accommodation and dining see the follow link: Downtown Portsmouth.