Showing the single result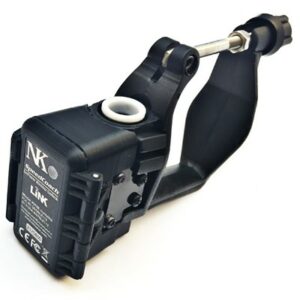 NK EmPower Lock
Display & Pairing
EmPower Oarlock data is displayed on a SpeedCoach GPS 2 with Training Pack. Each oarlock is wirelessly paired with its own SpeedCoach for athlete or coach viewing. Viewing distance is approximately 100' line of sight from oarlock to SpeedCoach. At launch, the SpeedCoach will support one EmPower Oarlock, and scullers have the option of displaying raw effort-related measurements or doubling them to show total work and power. The SpeedCoach can be simultaneously paired with an NK heart rate belt to aid in developing physiologically efficient rowing.
Measurements
Catch Angle
Max Force Angle
Finish Angle
Force
Slip
Power
Wash
Average Power
Stroke Length
Work per Stroke
Effective Length
Avg Work per Stroke
Max Force
Connectivity & Software
Wireless connectivity is via Bluetooth® Low Energy. Data download is accomplished using NK LiNK for Windows or Mac OSX and an NK USB Dongle. Selected sessions can be exported from LiNK to an Excel compatible CSV file for viewing per-stroke data. Sessions can also be exported to a .fit file containing boat performance, heart rate and power data that is compatible with 3rd party apps such as Training Peaks and Strava.
Configurations
EmPower Oarlocks are available for sculling and use bushings to accommodate various pin sizes. Be sure to order according to your rowing style and boat's pin diameter. Bushings can be replaced if the oarlock is moved to a boat with different sized pins and if they become worn.
Rowing Style
Sweep
Sculling
Pin Diameters
13mm(blue)
1/2″ (white)
9/16″ (black)
13mm(blue)
1/2″ (black)
7/16″ (white)
Pitch
4 degrees
4 degrees
Power
The EmPower Oarlock is powered by a single AA battery, easily accessed with a sealed flip-lock door on the back of the oarlock. For most cost-effective use, we recommend rechargeable NiMH batteries such as Panasonic Eneloop® and Eneloop® Pro or Maha Powerex. Rechargeable AA's can be expected to provide 8-20 hours of operation depending on capacity, and multi-packs make it easy to have fresh batteries standing ready to use. For disposable batteries, we recommend Energizer Ultimate Lithium batteries, which will provide roughly double the run time of rechargeable batteries. We do NOT recommend the use of standard alkaline batteries. Particularly if they become damp when stored or installed, alkaline batteries are prone to leaking and the highly corrosive acid will destroy the EmPower Oarlock's electronics. Damage from leaking batteries is not covered under warranty. The oarlock automatically shuts down after 10 minutes without connection to a SpeedCoach.
Ruggedness
The EmPower Oarlock is designed and built to be your everyday oarlock. It has a waterproof rating of IP67, which is defined as submersion up to 1m deep for up to 30 minutes. It also passes impact testing according to MIL-STD-810G, Transit Shock, Method 516.5, Procedure IV. This means it can withstand the typical impact you would expect to encounter when carrying a boat in and out of a boathouse. The oarlock can be operated from 32 to 131°F and 5-95% non-condensing humidity. It should be stored in a temperature range of -22 to 140°F.
$

649.00
Select options