Dreher oars also cater to the Recreational, Entry Level, Touring oarsman, Open-Water enthusiast as well as the and Junior Sculler. This line of oars includes our adjustable length oars with a variety of blade choices and stiffness.  Designed with the recreational and junior oarsman in mind, these oars can help provide many years of enjoyable sculling.
Little Big Blade (LBB): is a smaller version of our classic Big Blade (BB2198). The Little Big Blade sculling oar was initially designed for European Touring boat scullers but has since also become a favorite Open Water / Recreational design in the US. It appeals to youth scullers, lightweight women, and touring rowers either on adjustable or fixed length sculls.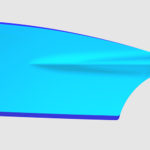 Big Blade (BB2198): is one centimeter wide then the LBB and is more apt to be chosen for calmer recreational rowing. It is the blade shape offered on Fixed Length Sculls for an entry level recreational rower. (LBB light blue, BB2198 dark blue)
Macon-1999: otherwise known as the "Big Macon" was designed for masters and recreational rowers who still use the symmetrical Macon spoon shape blade. This symmetrical blade has almost the same area as the modern Big Blade. The width of the blade is 19.4cm, with proportions that are reminiscent of the "tulip" shape blades of the 60's.
Macon 18cm: are adjustable length sculls with an 18.1 cm wide Macon blade that are sold to the traditional recreation and touring market. It is a shape that is the same length as our Kinder Sculls, but about 1cm wider. This blade shape has been almost exclusively sold in Europe.
Kinder Sculls: are our traditional 17cm wide by 48.4cm long Macon blades that are perfect for young rowers with a total oar length of 289-290cm. This blade has the smallest blade area of any that we sell at 713 sq. cm. It is a very popular blade in Europe.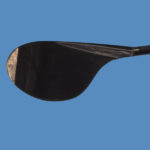 Apex-R: is a modern version of the Kinder and it recommended to start young juniors how to scull. Just like the Macon, it required a higher degree of skill to use in a racing shell and that is why the better coaches select this type of blade to be used on an adjustable length scull less stiff or x-soft configuration.