Dreher Alpha Sculls: The Alpha is our latest revolutionary design. This scull is our lightest with a balance point to fit the skill level and preference of each customer. These sculls are overall the lightest weight sculls offered on the market today and provide the best overall "swing weight" characteristics. On the recovery, lower "swing weight" results in far less energy usage and is especially helpful in reducing fatigue as the stroke rating goes up. These sculls made from a hybrid mix of twill and unidirectional carbon prepregs.
These sculls have the same choice of 3 grip types, one blade shape, three levels of shaft stiffness, two types of "hand-adjustable" bearing surface with several color options.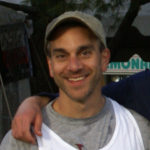 The Dreher Alpha sculls were the first to have the innovative "tool-free" load adjustment system that was designed and developed by Durham Boat Company's, Design Engineer, Michael Dreher, a three-time national team lightweight sculler and two time Pan Am medal winner.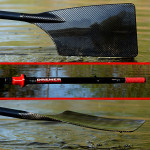 This, our latest addition to this family of sculls is our only sculling oars using high modulus carbon, but no twill as an outer layer in the shaft. The Alpha blade is still a hybrid construction between the core and the outer twill carbon along with high modulus carbon, standard modulus, and twill on the blade. As such the overall oar weight is the lowest of any of the high modulus sculls offered to date, but still has a good balance point.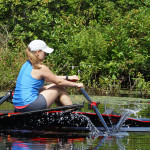 The Alpha blade shape has slightly more curve from tip to inside edge and top to bottom. This newest Dreher hatchet design appeals to those who want a more secure lock-on at the catch.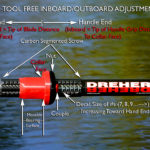 This "tool-free" load adjustment feature allows anyone to adjust the load anytime and anywhere without tools. The carbon segmented screw piece is permanently bonded to the scull shaft. The easily replaceable bearing surface is moved by a nut, with 1 cm of inboard/outboard movement for every 360 degrees turn of the nut. This easy adjustment feature allows the rower to have a better feel for which rig is correct for each wind condition. A change of the rig takes no more than one to two minutes to complete the four adjustments required for each set of sculls and can be accomplished easily on-the-water!
Due to the popularity of the "tool-free adjustable feature", on April 22, 2016, this feature was made available on all newly constructed adjustable sculls as an option at a modest price increase. A patent was issued for this innovative sleeve/collar adjustment feature for inboard/outboard adjustment on February 21, 2017.
As a result of the 2017 Dreher Ellipse Sweep with the Tool-Free Adjustment Feature, we can up with a superior "nut locker" and wear surface material that we immediately made available.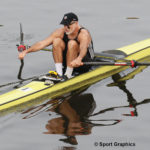 See Rick Anderson winning his age group at the 2016 HOCR Regatta with the Dreher Alpha, Tool-Free Adjustable (TFA) sculls.