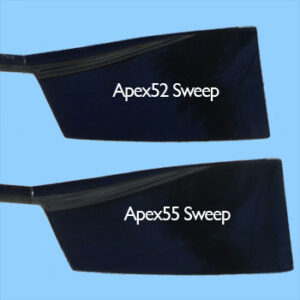 The Dreher Apex Sweep oar is one of the most successful sweep designs produced to date. The Apex55 Blade Shape was introduced at the 1999 Head-of-the-Charles Regatta. This was our "Next Generation" of blade shapes for both sweep and sculling. These blades have both a smooth front surface and most importantly, a smooth back surface to provide better hydrodynamic lift. The Apex52 sweep blade was introduced in December 2010. This is simply a 55 cm blade length shortened by 3 cm.p blades. The results of the testing were so favorable that we decided to start selling the new blade shape worldwide in January of 2011
The Apex blade shape became a significant design improvement. What we did was move the attachment spine to the top of the blade (the "apex") on both the front and back parallel to the direction of water flow as the blade traverses out and back from the boat. The spine was changed to a smooth contour and the volume calculated to effect a displacement enough to give the correct buoyancy as well as the right weight and weight distribution, which affects the balance point. In addition, the blade is made to the FISA minimum thickness of blades (i.e., of 3 mm thick blade; 2 mm in from the tip) with a rounded edge to increase efficient blade work.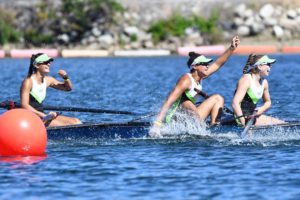 Dreher Apex 52 sweeps were used by CBC to win the Youth Women's 4+ race at the 2018 Youth Nationals held at Lake Natoma, CA out of a field of 21.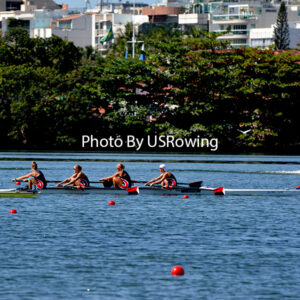 Since 2011 the Junior Women's Sweep Team has used both the Apex55 and Apex52 with great success. To date, the US Junior Women have won 13 of a possible 18 sweep medals. One gold medal was won by the Jr. Women's 4- in each odd year:  2011, 2013 and 2015. Four silver medals were won in with three in 2012 and one in 2014 and also 6 six bronze medals were won (2 in 20016, 2 in 2015, 1 in 2014 and 1 in 2011). This was an impressive performance by Head Coach Liz Trond. (See the Gold Medal 4- winning in Rio: Click to enlarge)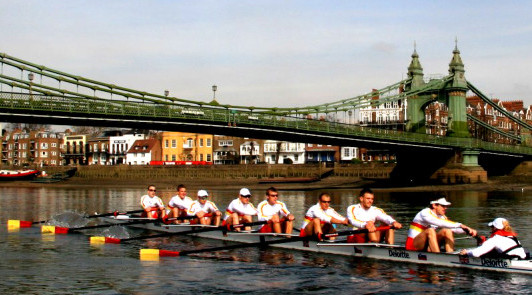 In 2009, the first Great Eight, a group of top World Class scullers at the time, used the Dreher Apex sweep oar in the Head of the River Race for Eights. The Eights Head is the largest 8+'s Head Race in the World with just over 400 eights in one race. This race pitted many of the best scullers (rowing sweep) against the best sweep rowers in the World. The Great Eight, rowing for the Tideway Scullers Club won this top international race with little practice using the Dreher Apex 55.