Services:
About Us: Dreher Composites was organized in 2011 as an adjunct of Durham Boat Company, which has been in business since 1982, as a vertically integrated premium manufacturer supplying parts primarily of carbon fiber prepreg to the small, but world-wide racing and recreational rowing market.  This was in response to a demand for our broad expertise in composite materials, processes, part and mold design developed over 30 years.  Application opportunities have come from Defense, Aerospace, Automotive and other commercial customers for composite products.
Contract Composite Part Design and Manufacturing: Using our in-house CAD design team we can design any composite part to your  specifications using Rhino and Solid Works CAD programs. We than can produce composite parts in moderate volumes using 5 specific high pressure composite processes plus 3-D printed parts in PLA, PET, Nylon and Carbon or Kevlar reinforced Nylon.
Contract Mold Design and Manufacturing: From the part design we can prepare a mold design to manufacture the parts that will be made in carbon prepreg. This will utilize our years of experience to come up with an optimum mold design for the particular process chosen for composite manufacture. Dreher Composites has a 2013 3-Axis Hardinge Milling Machine with an automatic tool changer for in-house mold manufacture.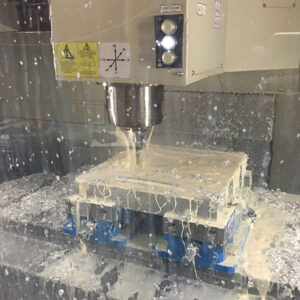 Contract Part Manufacturing: Dreher Composites can make carbon composite parts or 3D printed parts.

Dreher Composites Design team: We provide confidential work, to provide you with state of the art carbon composite parts by first selecting the best composite manufacturing process and in many cases using 3D printed parts for rapid prototyping and in some instances of low volume production additive manufacturing.
The keys to our success are as follows:
We have been evolving our light-weighting carbon composite processes for 28 years;
Thoughtful and FEA tested design where possible, with the tooling design in mind;
Our proprietary bilateral molding process is unique to us and provides added strength and long part life.
Autoclaving where appropriate provides added strength and longevity;
The quality of the mold finish results in a class A finish, without painting.
Only the best carbon prepreg materials are sourced to insure the quality of the finished part and a repeatable weight and strength part;
Experienced technicians produce the parts with an eye toward quality;
In-house vertical integration from: conceptual design –> rapid prototyping –> engineered part design –> mold design –> pre-production part design and testing — > production part manufacturing results in rapid speed to market.