Alden Rowing Unit for SUPs: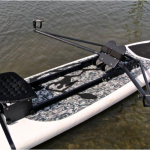 Convert your Stand Up Paddleboard or Windsurfing board into a sculling boat with the Alden SUP scull rig. The unique and efficient sliding rigger system eliminates the bobbing effect experienced with a traditional sliding seat rigger on a short hull Board lengths of 14′ or more are recommended.
The unit comes with two attachment systems. Straps are included for use on inflatable SUPs and for first finding the balance point of the board. Specially designed attachment points that do not impede the normal use of your SUP are also included. These are adhered to the surface of the SUP and allow the unit to attach and detach in seconds.
The rigger glides silently on its tracks thanks to Alden's tried and true wheels and bearings. All parts are made in the USA.
Rowing a SUP is stable, fast, safe, and fun. Row in all water conditions with ease.
Sculls and SUP are not included.
Specifications:
Base Length: 55″
Base Width: 12.5″
Oarlock to Oarlock Dimension Fixed at: 63″
Oarlock Height over Seat: 5.25″ to 6.75″
Seat Height over Bottom of Heel Cups: 6.5″ to 7.5″
Base Unit Weight: 19 lbs.
Sliding Rigger Row Board from Rum International: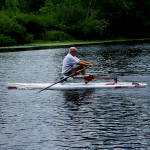 The Rum International Sliding Rigger Row Board™ rigging unit can be attached to any Stand Up Paddle Board or Sailboard. This unit uses a vacuum mount attachment system. The innovative mounting system allows fast and secure attachment to the board without the use of straps or the need to drill holes in the board. The four vacuum mounts, made by SeaSucker, provide a low-profile, strong attachment system that can be used on smooth boards. For textured boards, thin disks are provided to be mounted on the board with adhesives.
The sliding rigger is a tough, lightweight unit made from stainless steel, anodized aluminum, and plastic components. Proven through many years of use around the world.
The Rum International RowBoard™ is sold with mounting suction cups, teak unit supports, a comfortable angled seat, used for many years on other sliding rigger recreational boats. Sculls and SUP are not included.
Specifications:
Base Length as defined by the outside of suction cup location: 62.5″
Base Width as defined by the outside of suction cup location: 15.5″
Oarlock to Oarlock Dimension: Fixed at 63″
Oarlock Height over Seat: Ave. 6.5″
Materials of Construction: Teak mounting feet, rubber/plastic suction cups, plastic seat, anodized aluminum supports bars for sliding rigger and a stainless steel rigger.
Double Bladed Carbon SUP/Kayak Paddle: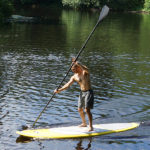 Adustable from 8'to 12′, this double-bladed carbon paddle is great for variable wind conditions. For use with SUPs, canoes, and kayaks, the three-piece design can be quickly adjusted on the water to be able to sit, kneel or stand. So if you are tired of standing up, or you rather not keep switching sides, or the wind comes up and turns your body into a sail, this is the perfect product for you. You can kneel on your board and quickly transform this long SUP Kayak paddle into a shorter paddle. The range of adjustable is four feet and that should enough to satisfy most people. The blade angle on each side can be adjusted as well. Dreher SUP Kayaking Paddle
Alden Canoe Conversion Kit:
Alden Row Wing Canoe Conversion Drop-In Unit, specifically designed for Canoes or Wherries. It is an easy way to convert a canoe to a sliding seat rowing shell.