World Leading Manufacturer
Durham Boat Company, Inc. is the world leading manufacturer of indoor rowing tanks and has been designing and installing commercial indoor rowing tanks for 24 years. These facilities are primarily used for off season rowing, muscle specific conditioning and technique training. Presently, we have sold and installed 35 indoor rowing facilities of various sizes (2 to 16 stations) for university, high schools, fitness centers, club rowing/sculling programs and National Training Centers.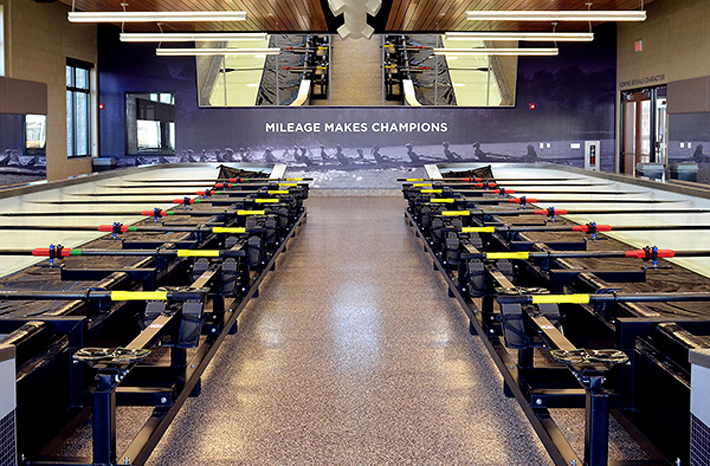 Enhanced Tank Design
The function of most indoor rowing tanks is to instruct novices in the proper blade work technique and steady state rowing. With the recent enhancements to the tanks, athletes can now use the tanks for all workouts; including shorter higher rate pieces. Most all updates can readily be retrofitted to any of our existing tanks. In addition to Steady State, Anaerobic Threshold, and Transportation pieces can be done in the tank with stroke rates above 30. The Dreher Rowing Tank design exceeds the performance of powered tanks, with a fraction of the cost, while also being the most environmentally friendly indoor rowing tank design!
Component Additions or Replacements
We also provide tank specific rowing component additions or replacements to older tanks to provide the latest functionality of what we currently sell and can refurbish older tanks. Recent tank enhancements allow the customer to select from a wider range of configuration and rigging options to achieve a greater range of stroke rate options.
Athlete-powered Tank Design
Examination of both powered and non-mechanically assisted flow technology led us to the conclusion that an athlete-powered tank design can more closely approximate the force levels and handle velocity experienced in the boat. A powered tank has a great mass of water moving at a constant velocity and this prevents the rowers from executing the drive as it is intended: In the boat during the drive phase the rower accelerates the handle to the finish due to the boat increasing speed from the catch to finish.
Just as in the boat, in the Dreher "athlete powered" tank, the rowers are the pumps. The better the technique, strength, fitness level and synergy of the athletes, the higher the achievable stroke rate and efficiency. With the load matched more closely to what is seen in the boat, the acceleration to the finish is achievable because the water is allowed to be more responsive to the athletes' power input. By optimization of fluid flow, minimizing fluid volume and proportioning outboard lever and blade size, the water volume of our design need be only a fraction of other tank designs.