HISTORY OF STÄMPFLI RACING BOATS:
As the oldest operating rowing hull manufacture in the world, the story of Stämpfli Racing Boats is a long and prestigious one. Over a century ago, in 1896 in Zurich Switzerland, Johann Friedrich August Stämpfli created the company and brand.  The first hulls produced were fishing boats and sailing yachts, but the company quickly evolved and produced its first rowing racing hull in 1898. After the success of their first rowing hull, Stämpfli continued to forge ahead leading the industry in hull design, materials exploration, and construction.
Over the next few decades new materials and composites came into fashion as boat builders began experimenting with new technologies. Composite materials offered boat manufactures the ability to produce a new array of hulls, which were lighter, stiffer, and more durable than their wooden counterparts. The rowing world began to make a sudden shift towards composite boats as their benefits became obvious.
In 1992 Janousek, a British boat-building manufacturer, bought a controlling stake in Stämpfli Racing Boats in Switzerland and in 1998 rescinded the controlling stake for the rights to build all composite Stämpfli boats. Today, all composite Stämpfli racing hulls are built in Byfleet, Surrey in the United Kingdom.
Durham Boat Company and the Dreher brand have had a longstanding relationship with the Janousek/Stämpfli and in 2016 decided to combine forces and reintroduce Stämpfli Racing Boats back to U.S. waters.
Single Models Currently Available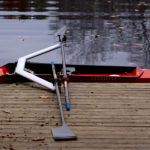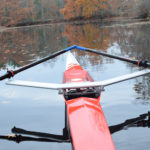 X1 – The 'tear drop' Stämpfli shape, developed by the Finnish Ship Technical Institute in Helsinki in partnership with Stämpfli for 3 times Olympic Champion Pertti Karpinnen.  This shape is 8.1m long and available in a full range of average cre
w weights up to 85kg +/- 5kg, with a bias towards more volume in the stern than the bow it provides more stability and confidence to scullers at the catch.
A1 – A lightweight shape available up to 75kg, 7.9m in length with a bias towards a deeper profile giving good rougher water capability.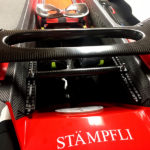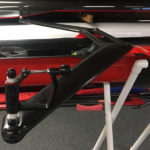 Since the Stämpfli singles have arrived we have adapted our hollow wing rigger and have made a boat attachment piece to fit on both boats to allow our carbon rigger to be installed and take ~ 1 Kg (2.2 lbs) of weight out of each single. The final iteration of the boat attachment piece (BAP) in carbon will be available before year-end.
These racing shells are not yet sold through the web store, so call for the prices: 603-659-7575.