Description
What does this system show you?
With one Quiske Sensor Pod, you can move the sensor from the port to the starboard oar to compare curves at a typical stroke rate. You can also relocate the sensor to the seat to observe the seat velocity.
Graphical reports that are possible from the Quiske Rowing System:

Performance curve (Handle Velocity) ;
Deceleration/Acceleration and Velocity curves;
The Oar Flight Path;
Seat Speed (when the sensor is placed on the Seat)

The numerical values available that are presented include:

Sampled Strokes;
Stroke Rate (ave. s/min);
Boat Velocity (ave. m/s);
Stroke Length (ave. degrees/stroke);
Ave. Max. Drive Speed (deg/s);
Location of the Max. Angular Drive Speed (%);
Ave. Max. Drive Recovery Speed (deg/s);
Ave. Max. Seat Velocity (m/s).
This system includes:
One RowPerformance Sensor Pod by Quiske (includes one sensor holder, one strap, and one USB 2.0 charging cord). The sensor can be attached to your oar or seat quickly and easily.
The package includes a waterproof (IP68) Android phone. The Android phone is Bluetooth Smart/BLE capabilities and has the  RowP App already installed from the Google Play Store.
The first-year use of the portal is free for the rower level analytics subscription. It is helpful to be able to view your graphs and numerical data as you are learning how to use the system.
The following video shows the system in action with the graphical and numerical displays available in real-time and downloadable to the portal. From the portal, you can keep a record of your progress and compare yourself to other athletes if you choose. The sensor provided can be relocated from the starboard to the port oar or to the seat. Also, included are a sensor, sensor attachment housing, charger, and strap, and leash.
What you will need to do is:
Get a mount that best fits your phone from Ram Mount. The most versatile RAM Mount consists of the following three items:

RAP-B-400U: Small tough-claw with 1″ ball
RAM-HOL-UN7BU: X-grip phones with 1" ball
RAP-B-201U-A small arm 2.0" 1" balls
Optional rubber phone tether
These high-quality mounts, which can be used on almost any type of boat to attach a phone rigidly to the foot stretcher, rigger, or any other suitable place.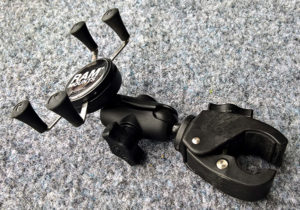 The Quiske App from Google Play has already been installed on your phone.
See this Tutorial as to how to upload your files to the web portal and manipulate the data and understand what you see once off the water.
See the video showing how the sensors pods collected data that could be seen in real-time or after the fact as displayed from the Portal. This data was collected from a Jr. National Sweep Team practice prior to Jr. WRC.