Dreher's line of adjustable Sculls offers many of the same great design features of our High Performance Sculls, but at a more affordable price point. This line of Dreher oars was developed with the entry-level sculler, the club oarsman, and the pre-elite sculler in mind. Featuring adjustable length, 3 different blade shapes (Apex, Apex-R, and BB2198), three levels of shaft stiffness, and three handle sizes. All Dreher blades are also constructed to the FISA minimum thickness, promoting a clean release and a true drive. This blade design has been one of the hallmarks of Dreher's modern oar technology.
APEX: This blade has both a smooth front surface, and most importantly, a smooth back surface to provide better hydrodynamic lift. The oar features a seamless juncture between shaft and blade, which minimizes water turbulence at the catch and promotes a cleaner drive phase. This blade continues to be one of our most popular shapes sold.
APEX-R: This design is a modification of the Dreher APEX blade shape and utilizes all the benefits of the APEX blade while introducing further hydrodynamic performance. The blade eliminates the three squared corners as well as deepens the blade at the center of pressure. This blade shape has proven to be very popular and helps to allow a higher tempo rating and is noticeable easier to release cleanly as well as result in minimal splash at the catch. A side benefit is the blade is less vulnerable to windy conditions. These are a especially good for juniors promote good technique.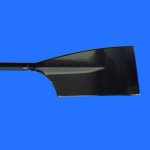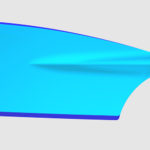 BB2198/LBB: For the "traditionalist" sculler our Big Blade (BB2198) sculling blade may be the oar of choice. This blade design was developed after studying several iterations of blade shapes using a rapid prototyping technique. Our challenge with producing this oar was to improve what we believe to be the best sculling oar design on the market at the time. The BB2198 has stood the test of time and continues to be one of our popular blade choice for our scullers. Smaller scullers, or those who row in choppy conditions prefer the 1 cm narrower Little Big Blade (LBB). (2nd picture) shows the relative size difference between the LBB (light blue) and BB2198 (dark blue).